You Can Give Families a Healthy Start
SPACER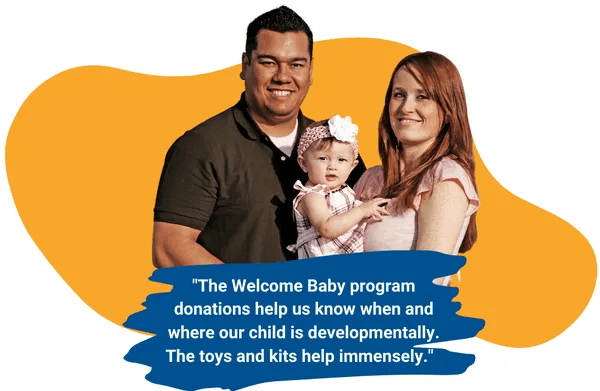 Did you know that diapers, wipes, and formula cost an average of $175/month?
That's a lot for parents with newborns. 
This month, you can help a family make ends meet by hosting a community baby shower.
Any items you collect as a host will be delivered directly to a family in need. Our Welcome Baby program ensures that every parent who enrolls with a newborn receives a diaper bag filled with newborn commodities.
What Young Families Need:
Parents and guardians have a hard enough time asking for help when they have a new baby, and we want those in our program to feel valued and respected, no matter what. This is why we ask for all new items. View the full list of needed items here. 
*Remember, every donation, no matter the size, makes a huge difference. These parents are so grateful for the items they receive each month. For many, these are vital items that they could not afford otherwise.
SPACER
Want to Host? Here's How it Works:
Who Should Host?
Businesses wanting to give back
Individuals looking for a unique celebration plan for holidays, birthdays, etc...
Church groups needing to fulfill a service project
College students craving a fun group activity
New community members who connect with their neighbors
Anyone with the desire to give to families in our community!
Steps to a successful Community Baby Shower 
You can also make a monetary donation if you are unable to host.
About Welcome Baby

Welcome Baby is a free home visitation program for parents with children aged newborn through three years old, sponsored by United Way of Northern Utah. Home Visitors do monthly in-home visits with families, which include a comprehensive guidebook with age-appropriate developmental information, activity ideas, and parenting tips, as well as connection to resources in the community. Welcome Baby partners with several agencies for family referrals into our program, offering much-needed support to these families. Over 99% of donations that come through Community Baby Showers are used for our Welcome Baby families. Currently, Welcome Baby currently has over 60 volunteer home visitors who make monthly home visits to over 240 families participating in the program. Welcome Baby currently serves families in Box Elder, Weber, Davis, Summit, and Salt Lake Counties, and is growing exponentially each month.