What is a Little Neighborhood Library?
Little Neighborhood Libraries are small, hand-built libraries that are stocked with free books in both English and Spanish for individuals of all ages in the community. They are accessible at all times and you may have seen one while driving, biking, or walking around your neighborhood. 
Why are Libraries Important?
Access to quality, age-appropriate books is key to developing reading skills. Reading proficiently by the end of 3rd grade is one of the most important predictors of graduating from high school.
Nearly two-thirds of low-income families have no books and currently more than half of Ogden School District 3rd graders read below grade level. With your help, we can make books accessible to all children in Northern Utah and give a new generation the opportunity to find their favorite books.
United Way of Northern Utah has seen some promising statistics that helps us know that we are making progress, but there is still work to be done.
Grade 3 English language proficiency increased 15% points for economically disadvantaged students.
Kindergarten Readiness increased by 4%.
The graduation rate increased by 14% since the 2015-2016 school year.
space
Click the image below to browse our catalog and choose requested books to donate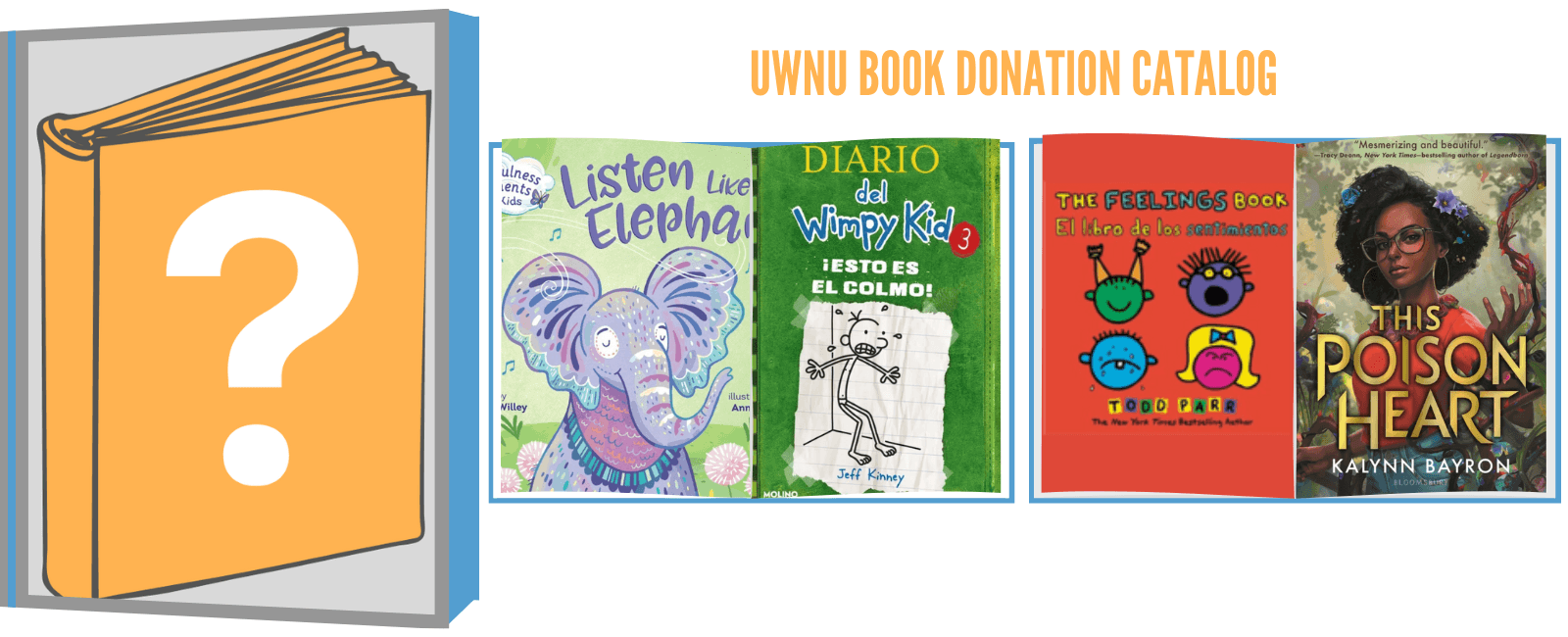 Find a Library Near You
Current Libraries:
28th & Pingree Library: 155 28th St. Ogden, Utah 84401
Corinne Library: 2325 N 4300 W, Corinne, Utah 84307
Midtown CHC Ogden Library: Midtown Clinic, 2240 Adams Ave, Ogden, Utah 84401
Ben Lomond South Library: 1030 E 10th St. Ogden, Utah 84404
25th Street Yellow Library: 751 25th St. Ogden, Utah 84401
Monroe Park West Library: 2905 Monroe Blvd, Ogden, Utah 84403
22nd and Jefferson: 2220 Jefferson Ave Ogden, Utah 84401
Oasis Community Library: 2445 Monroe Blvd Ogden, Utah 84401
Honeyville Head Start: 6980 N 2550 W Honeyville, Utah
Madison Avenue: 2225 Madison Ave. Ogden, Utah 84401
24th St. Book Haus: 1008 24th St. Ogden, Utah 84401
Subi Library: 1920 Jackson Ave. Ogden, Utah 84401
PSC 29th St. Library: 2909 Washington Blvd, Ogden, Utah 84401 
2029 Library: 2029 Madison Ave. Ogden, Utah 84401
St. Joseph's HS Library: 1790 Lake St. Ogden, Utah 84401
Little Prince Healy Library: 850 Healy St. Ogden, Utah 84403
26th James and the Giant Peach Library: 854 26th St. Ogden, Utah 84403
DaVINCI Elementary Library: 215 22nd St. Ogden, Utah 84401
Biblioteca Solo en Espnañol: 2563 Monroe Blvd, Ogden, Utah 84401
Utah Neighborhood Connection Library: 789 2nd St. Ogden, Utah 84404
United Way of Northern Utah Library: 2955 Harrison Blvd. Ogden, Utah 84403 (This library is only accessible during business hours)
WIC Office Library: 455 23rd St. Ogden, Utah 84401 (This library is only accessible during business hours)
Harry Potter Library: 1055 29th St. Ogden, Utah 84403
Kitticorn on 23rd Library: 606 23rd St. Ogden, Utah  84401