How the AmeriCorps Student Success Program Helps Students Learn and Grow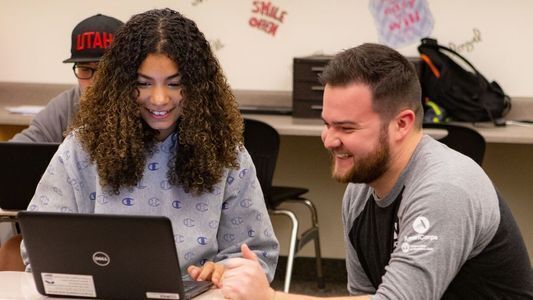 The AmeriCorps Student Success Program partners with schools statewide to help provide more individual support for students so that they can be successful in school and in life. AmeriCorps members work one-on-one with a specific caseload of students to help them strengthen reading skills, increase attendance, improve GPA, and progress towards high school graduation. Students and families may also receive assistance overcoming barriers to education by connecting them to community resources to meet basic needs. 
With this consistent and meaningful support, students gain the ability to set personal goals, be accountable for personal learning and growth, establish good study skills, develop more enthusiasm for learning, develop a positive growth mindset, and increase their self-confidence. 
We'd love to have you join us in providing support to help students succeed! 
I Would Like To...
SPACE
Outcomes:
In the 2020-2021 program year, the AmeriCorps Student Success Program served 1889 elementary and 1994 secondary students. Of the elementary students that received more than 20 hours of additional intervention support through AmeriCorps members, 91% showed an increase in academic performance. 80% of secondary students who received support with attendance support improved their academic performance. Here are some of the ways that the students demonstrated improved academic performance:
911 elementary students scored higher in Acadience
503 elementary increased 3 or more reading levels
231 secondary students improved GPA
320 credits were recovered by secondary students
224 seniors in the program graduated on time from high school
AmeriCorps member engages their communities and recruits volunteers to provide additional support for students.
1125 volunteers served over 10,000 hours in our schools across the state helping students to improve their reading skills and get on track to graduate from high school. 

SPACE