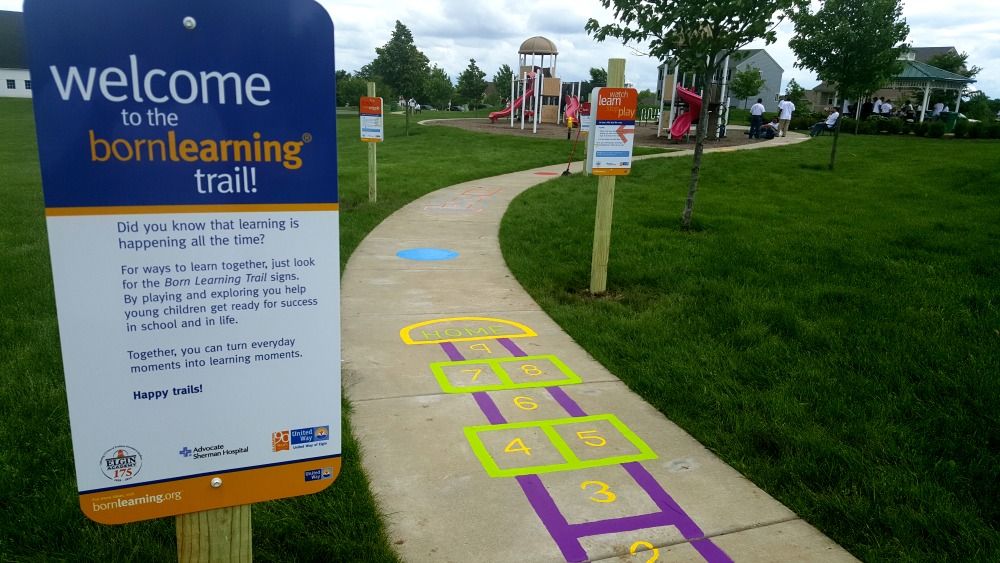 A man once said, "You cannot make people learn. You can only provide the right conditions for learning to happen." (Vince Gowmon) Parents are always looking for ways to get their children thinking and learning new things about the world around them. Fortunately, a new outdoor interactive learning project called the Born Learning Trail will be coming soon to the Marshal White Center in Ogden in the coming months.  
The Born Learning Trail concept originated in 2005 and has been successfully accepted and sponsored in over 750 community parks around the country and internationally as well. This park activity series provides a way for parents and children to communicate and learn together in an outdoor environment while on a leisurely stroll or walk. Through a series of activity signs, the trail offers suggestions for discussion and interactive activities for families to enjoy.  
One example activity is to play hopscotch on a brightly painted surface. Another sign says, "Jump, Clap, Skip, Move" with the purpose of getting kids up and moving around. Another sign example is titled, "talk, listen, sing." It suggests an activity like listening to the birds. And then to ask, "What are they saying? Can you sing like them?," These activities encourage children to use their imaginations and to think about the world around them.
This new addition will provide a new additional outdoor activity for families to enjoy while spending time with each other. It is expected that there will be additional trails in various parks around Ogden in the coming years.
You can learn more about the process of acquiring new trails for your park here.