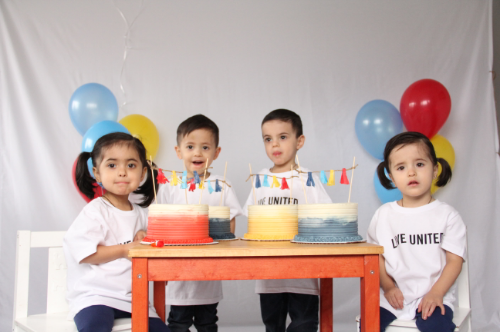 Monica already had three kids, including a set of twins, when she found out she was expecting quadruplets. "I [went to the doctor] and they said you have two babies, and then three months later they said you have two more and there's four babies!" said Monica. Adding four babies to the family was quite overwhelming. Monica found the help and resources that she desperately needed through kindhearted neighbors and United Way volunteers.
Monica's babies were born prematurely at 28 weeks. They required extra attention at home and frequent trips to doctors for a variety of medical needs. A group of neighbors offered their help and Monica had several volunteers come into her home every day to help bathe, feed, and care for her four newborns. After hearing about United Way's Welcome Baby program, Monica enrolled her family for home visits. Through the program Monica received extra support, countless diapers, and other donations. Her Welcome Baby volunteer went above and beyond, coming into her home and offering an extra set of hands several times a week.
One of the dedicated volunteers that has been visiting Monica's family since they first enrolled in Welcome Baby is Geraldine Christensen. Since she first met Monica's family in 2016, she has been visiting them every Monday through Friday. Geraldine helps Monica transport her children to doctor's appointments and was a great help when potty training the quads. Monica says that volunteers like Geraldine offer an amazing support system for her family.
Geraldine also brings Welcome Baby's learning activities for the quadruplets. Through play, she has helped them learn how to recognize colors, numbers, and letters. The kids love to play with play-dough, and don't realize that they are learning in the process. The Welcome Baby Program is geared for children from 0–3 years of age. The quadruplets are turning 3 years old and "graduating" from the program this March. Geraldine has seen the kids learn and grow these past few years and plans to continue visiting the children even after they are too old for the program. "Those kids are so smart. The activities that United Way has provided have been so instrumental in that."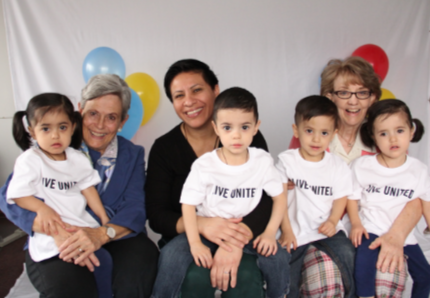 Welcome Baby volunteers help families by providing support and education to parents, and by sharing activities that enhance early childhood development. It's also a great way to strengthen communities and Unite neighbors who may not otherwise get to know each other. Geraldine summed it up: "It's interesting to see how all these people come in and think of the power that is created within the community because of that program, and it's volunteers. People say, why do you do that, I say, It's payback time. Pass it forward."
Then she adds with a smile, "It's been fun to be in their lives. They're just a precious family. It's been my privilege"