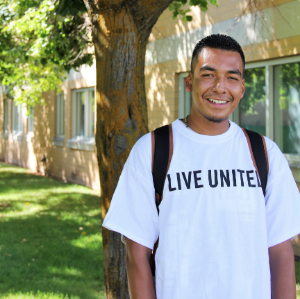 Arturo had pretty much resigned himself to spending his life homeless. Though born in the United States, he traveled to Mexico and stayed to live with family for several years before returning to Utah at age 15. The school system was very different here, and Arturo had no family support, so before long he dropped out of school.
With no responsibilities, Arturo spent his time with friends and got involved in drugs and illegal activity. "I thought I was going to do nothing with my life," he explained. A criminal conviction sent him to prison, after which his lawyer referred him to Two Rivers High School. From there, he transitioned to the Ogden-Weber Technical College's Youth Build program. The program would require him to earn a GED, complete AmeriCorps service hours, and earn certificates in the construction trade. "I didn't really want to do it," he said, noting that it was a big change from his previous lifestyle.
To participate in the Youth Build program, Arturo spent his mornings in classes to earn a high school diploma, as well as several construction certificates. He also spent time with his classmates performing community service and gaining work experience while renovating transitional housing for the local YCC shelter. Luckily, Arturo found a lot of support from his new friends and advisors. "I wanted to quit, but they kept me going," he said. After 10 months at Youth Build, his outlook has completely turned around. He was even named student of the month out of the entire school district in May.
"I'm almost done with the program," Arturo said. He has earned four certificates and only needs about 50 more hours to get his fifth. He is also just days away from receiving his high school diploma, becoming the first person in his family to complete high school. He now has construction skills and a job lined up, but his plans don't stop at completing the Youth Build program. Arturo plans to start college right away to become a welder, and isn't at all daunted by the two years of schooling he will commit to.
How was Arturo able to accomplish such dramatic changes in such a short time? He credits the people he met through the Youth Build program. "Youth Build treated me like family, that's what I wanted; they treated me like a second family," he said. He became accountable to people who cared about his future, which helped him to take responsibility for his own success.
United Way of Northern Utah is proud to support the life-changing efforts of Ogden-Weber Technical College's Youth Build program, through community impact grants and partnership work.