Negin moved from Iran to Ogden with her parents and sister in the fall of 2016. They came here for better opportunities, and Negin knows a college degree is a key part of her future. However, language and cultural barriers have made it a challenge to adapt to her new home and to navigate the complexities of college enrollment. Even though she was enrolled in college in Iran, those classes won't necessarily help her earn a degree in the United States.
Luckily for Negin, shortly after her arrival her uncle told her about services at the Weber State University Community Education Center. She signed up and began working with two advocates who helped her navigate the process of applying for classes and financial aid. "I didn't have any idea about Weber State, or how I should register or choose classes," said Negin. With their help, she was able to enroll in English classes to help her progress faster toward her goals. Her advisors also checked in with her regularly during the semester to see how she was doing and address any problems that developed.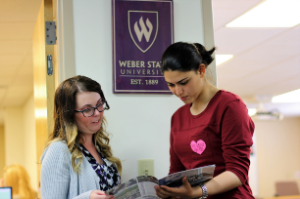 It had been over a year since Negin was in university classes in Iran, and she confessed she missed the learning environment. By attending school, she said, "I feel that I'm doing something for my future, and it's good." By next year she will be attending regular classes and working toward a degree, possibly in engineering or chemistry. Even though her first impression of her new home was that "Utah is cold," Negin has definitely felt a warm welcome here and has a bright future ahead of her, thanks to assistance from her advisors.
Through our Ogden United Promise Neighborhood initiative, United Way of Northern Utah has partnered with Weber State to bring an Education and Career Advocate to the WSU Community Education Center, helping break down social barriers to education. At the Center, community members can access many free and low-cost services including help starting college, GED preparation classes, and computer skills training. This program allows students like Negin to work toward success in college and beyond.