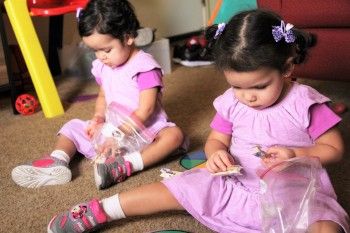 Twin sisters Lyan and Kaylee know exactly what to do when their mom hands each girl a closed zipper bag full of clothespins and laminated color wheels. The biggest challenge is to get their chubby two-year-old fingers to open the bag's zipper seal. Then comes the reward—they pull out fistfuls of clothespins, each with a brightly colored picture attached, and start clipping the pins to the corresponding colors on the color wheel. Both girls focus intently on their task, having fun but also taking each step into serious consideration as they work.
The girls' mom, Yessica, signed up for United Way's Welcome Baby program when her daughters were one year old, on a recommendation from a friend. She receives a visit from a volunteer every month at her home, along with an educational game designed to fit the changing needs and abilities of her girls. The home visitor brings information on child development, teaching through play, discipline, and other topics related to their age. Yessica and her visitor laugh and talk together as the girls work on their color wheels. The support and friendship are as much a part of the program as the parenting tips and kids' activities.
For Yessica, the color wheels and other activities have helped her understand what types of skills and words her girls should be learning at the young age of two. Play is important work for young children as their brains develop rapidly, forming new connections daily and setting the stage for learning and understanding throughout the rest of their lives. As they play with their clothespins, the girls are developing fine motor skills, hand-eye coordination, vocabulary, and an ability to follow instructions to complete a task. Their mom plays with them, then steps back so they can play independently.
United Way's Welcome Baby program has been supporting babies and parents since 2014. Over the past four years, program volunteers have served 422 babies and their families in Weber County, and the number continues to grow. In 2018, Welcome Baby is expanding its services into Box Elder County. Anyone in Weber or Box Elder County with a child from zero to three years old is eligible to sign up for the program. Follow the link below for more information or to sign up for the program.