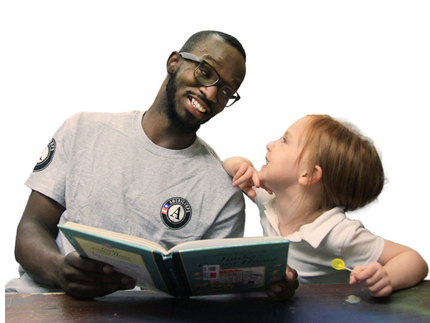 There are many youth, beginning in elementary school, who fall behind in their reading skills. This can impact their future learning and their self-confidence. One-on-one tutoring can help these students overcome those early learning shortfalls. 
Americorps Education Initiative of Utah (AEIOU) gives Utah students the opportunity to be tutored in reading by volunteers. 
WHY?
With a helpful and dedicated volunteer, learning will increase and move students forward in life. The AEIOU program can also provide a boost to a young person's confidence and their future chances of success. 
READ. Graduate. Succeed!!
A regular, dedicated volunteer from the AEIOU tutor reading program helps kids build a stronger foundation for future learning. Working with a child, a volunteer receives the incredible satisfaction of seeing kids learn and improve over only a short period of time. Below are examples from a couple AEIOU volunteers and how the children were impacted from working a couple times a week with a volunteer tutor: 
Success Stories
"A student was in my program for a year and sadly, she was not able to have a consistent volunteer. They (the volunteers) started out with the intention to continue for the year, but one had family issues come up and another got a job. This student really struggled and didn't progress much that year. The following year, she was able to have a very consistent volunteer work with her. After only a few months into the school year, she was walking down the hallway and I heard her say, "I didn't know I was such a good reader." She changed from avoiding coming to read to being the first one there. I often saw her in the library choosing book after book because she loved reading and was finishing each of these books."
-Heather P. (3 years with AEIOU)
"The first boy I read with was asked to complete a "get to know you questionnaire".  He wrote that he DID NOT like to read at all. His reading skill was hardly even recognizable. We could only read a little bit together & he oftentimes wanted to quit. I knew he could do it. We made a connection and he kept trying. He started to read better each week. At the end of the year he asked for his (questionnaire) paper back and on his own without any input from me, he changed his answer to YES I like to read. That was so fun to see. He was in the fourth grade. I read with him again in the 5th & 6th grades too. He was getting extra help from his teachers at school as well, but I sincerely believe that one-on-one with this boy was more valuable than I can put into words." 
-Sheila (7 year AEIOU Volunteer)
Want to try it out? Learn more about the AEIOU program or become a volunteer.