TURKEY AND COAT DRIVE
---
For many, it's the most wonderful time of the year. But for some, it's the most stressful time. In Weber County, 60% of residents are struggling to earn enough money to be self-sufficient.
Families struggling to make ends meet find the demands of winter and holiday needs overwhelming, especially with rising food costs. For those living paycheck to paycheck, the uncertainty of being able to provide a warm coat or holiday dinner weighs heavily.
You can help a family in need by donating: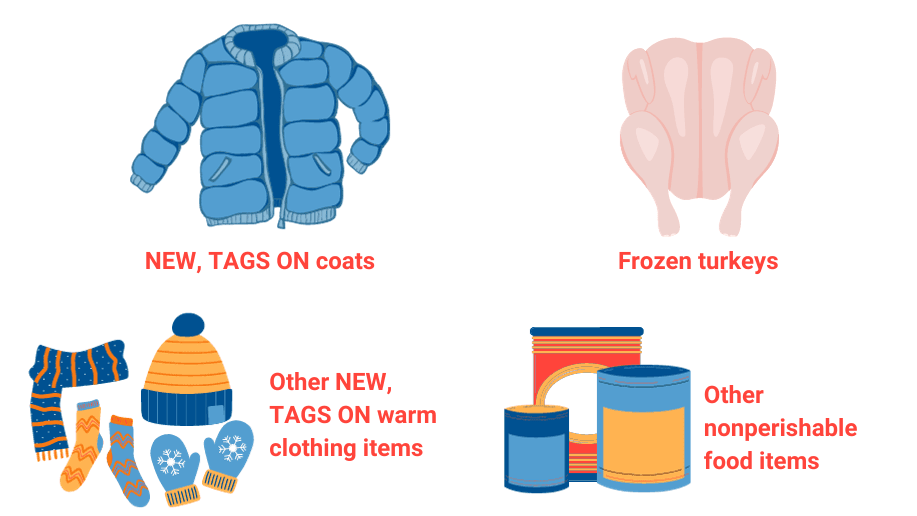 Together, we can lift our most vulnerable. Parents and guardians have a hard enough time asking for help, and so we try to maintain as much dignity as possible. Thank you for being considerate of these families in need by donating only new items. 
Donations are given to individuals and families through local nonprofit organizations, community programs, and school districts. 
Make a cash donation or drop off items at a donation site today. 
---
Check out our Amazon Wishlist for warm clothing

here

!
LEARN MORE ABOUT THOSE YOU HELP IN OUR COMMUNITY:
---
SAVE SOME TIME, MAKE A MONETARY DONATION TODAY