TRAININGS
Arbinger Leadership Institute for Nonprofits:

Organizational change starts with individuals. In fact, an organization will only change when the people who make up the organization change. The Arbinger Institute facilitates individual mindset change in people at all levels of an organization and provided the implementation and follow-up support needed to coordinate and sustain these shifts across a team or entire enterprise. 
For more information on how Arbinger training can help your nonprofit, click here.
2024 training information coming soon.
Project Blueprint: (click image for more information!)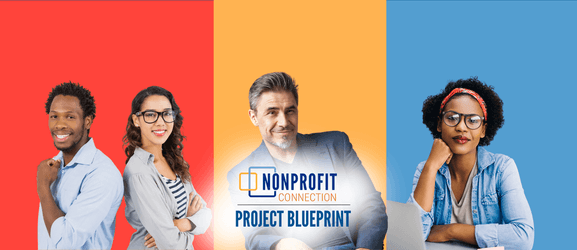 ---
GRANT RESEARCH AND OPPORTUNITIES

Zada Haws Community Grant Center:
The Zada Haws Community Grant Center is the most authoritative source of information on private philanthropy in Northern Utah. Approximately 90% of domestic foundations don't have a website. The Zada Haws Community Grant Center offers access to these hard to find funders, along with the most effective tools to organize and manage your grant research. The Center also offers instruction on funding research, proposal writing, locating prospective funders, and news and philanthropy. The Center is open to grant seekers, grant makers, researchers, policymakers, the media, and the general public. Candid's Funding Information Network, through the Zada Haws Grant Center, provides nonprofits with resources like:
A listing of over 140,000 foundations, corporate giving programs, and grantmaking public charities in the U.S.

A database of over 4,000 sponsoring companies, offering a quick pathway to corporate funders

A database of over 5 million recently awarded grants

A keyword-searchable database of over 1 million recently filed IRS Forms 990 and 990-PF
Through the Grant Center, nonprofits can access these resources through: 
Foundation Directory Online (FD): This fundraising database gives grant seekers unprecedented access to the largest amount of clean and coded philanthropic data that currently exists. By combining exhaustive data with intuitive search functionality and informative data visualizations, FDO makes fundraising quick and efficient. 
FDO Professional can be accessed in-person through the Grant Center. Please email Melissa Kloz at mkloz@uwnu.org to schedule your free grant search session. If you're using the grant center for the first time, you may request a 30-minute training session during your first visit!

FDO Essential may be accessed remotely through United Way of Northern Utah with this link. The link will allow you to access FDO Essential for a 24-hour period once a month. You will need to provide your name, email address, and EIN # to register for the remote access. 
Grants to Individuals Online (GTIO): Get detailed information on more than 10,000 foundations that give grants or scholarships to individuals. 
Candid Learning: Free introductory classes, blog articles, and other resources to assist and strengthen your nonprofit organization.
The Grant Center is open Monday through Friday, 8:00 a.m. to 5:00 p.m. For more information on the Grant Center, please call 801-399-5584, or email amonroe@uwnu.org. 
Through the Grant Center, United Way of Northern Utah will strive to build partnerships to enhance the quality of organizations in the process of grantmaking. We will preserve credibility by remaining independent and objective in providing technical assistance and services.
Community Service Grants: (click image for more information!)

---
RESOURCES
space

space