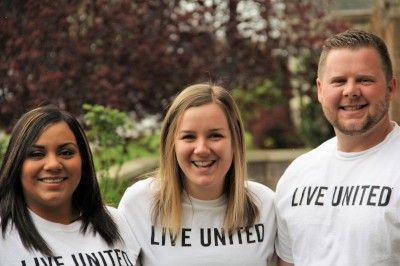 United Way of Northern Utah is a great place to work!
Join our team and help us build strong, vibrant communities in Northern Utah. We offer competitive salaries and wages, a generous benefits package, a team-oriented work environment, flexible schedules, and a culture that combines meaningful work with a cooperative atmosphere.
---
Learn with Playgroup is a FREE weekly educational play experience for children ages 0-5 and their parents. Our mission is to help parents support their children in gaining new skills and reaching developmental milestones while providing families with a social network. AmeriCorps LWP Facilitators typically lead 2 weekly playgroup groups and help support the overall program through their 6-8 hours of work each week.

AmeriCorps Community School Coordinators (CSC's) work with students, families, and the community at their assigned school to add a layer of support for students and promote student success. They work closely with school counselors, teachers, and administrators to help determine and meet the needs of students and families and connect them to resources within the school and community. Each CSC provides 1-on-1 student support to a caseload of 30-60 students (the number depends on whether the CSC is part-time or full-time). This support may include assistance with food, clothing, or housing, with improving attendance, and with social-emotional and academic needs. CSCs also help school-wide to promote school-family connections and help bridge students' experiences during the school day with their activities during out-of-school time activities.

Welcome Baby is a free in-home visitation program that promotes healthy, happy, and secure parents, babies, and families. Trained volunteer Home Visitors visit homes every month to provide education, support, and baby supplies. We are seeking Home Visitation Coordinators to recruit, train and support home visitors, recruit and support families to participate in the program and provide home visits to their own caseload of families.

AmeriCorps Student Success Coordinators provide one-on-one support for a caseload of at-risk students at their assigned school. The overall goal is to help students feel more excited about school and learning, gain confidence, and improve school performance. AmeriCorps members can often receive internship credit for their service through their college or university as they pursue degrees in education, social work, family studies, and other related fields. We have both full and part-time positions for Student Success Coordinators.

This AmeriCorps VISTA position will assist the Welcome Baby Program in strengthening community outreach efforts and recruitment/retention of program volunteers, and ultimately help program families gain valuable resources that will help them overcome poverty and other environmental stressors. Welcome Baby is a free, monthly in-home visitation program that focuses on child development, parent engagement and support, kindergarten readiness, and increased access to community resources. The focus of the VISTA will center around the creation of a robust volunteer recruitment and retention plan, strengthening of program volunteer trainings, and the creation of a family recruitment plan that centers on widening our multicultural reach and increasing the diversity, equity, and inclusion of the program. All of these efforts in their entirety will ultimately increase the capacity of the Welcome Baby Program, allowing for more families living in poverty to enroll and gain access to beneficial information and support needed in order to become more confident and educated providers for their children.
---
Diversity, Equity and Inclusion Statement of Principle
Our vision and mission reflect our fundamental belief that all people belong and deserve fairness, justice, and inclusivity. 
Our strength comes from our diversity and we celebrate the visible and invisible qualities that make each person unique, including race, gender, age, sexuality, ability, religion, national origin, gender identity, and other identities. 
Our commitment to aligning our culture and business practices to be a beacon of diversity, equity, inclusion, access, and belonging for all people.