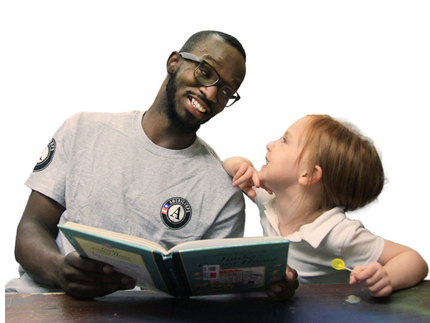 How AEIOU Helps Students Succeed
Although children who fall behind in reading by third grade are three times more likely to drop out of high school, we understand that these students have so much potential to succeed with just a little assistance–we've seen it happen over and over again. AmeriCorps Education Initiative of Utah (AEIOU) is a statewide program that helps fill the gaps when schools lack the resources to provide the individual attention these students need.
AEIOU is the most-recognized one-on-one tutoring program in Utah, helping almost 90 percent of its participants increase by two or more reading levels by the end of 30 weeks. Join us!
I Am or Would Like to Become:
Outcomes:
In the 2019-2020 program year, AEIOU served 1684 elementary and 1797 secondary students.
In the elementary tutoring program, by the end of their participation:
1499 of the 1684 participating students –nearly 90%– increased 2 or more reading levels
298 increased 2 reading levels
350 increased 3 reading levels
308 increased 4 reading levels
208 increased 5 reading levels
534 increased 6 or more reading levels
In the AEIOU secondary program where 1797 students participated, members reported the following:
480 students showed improvement in GPA
300 high school students recovered 1 or more credits
243 seniors in the program graduated on time from high school  
2,647 volunteers served in our schools across the state helping students to improve their reading skills and helps students get on track to graduate from high school.