Dashton is a bright, energetic kindergartener who loves playing games and learning to ride his new skateboard. He also likes listening to books his mom reads to him, but was far behind his peers in learning the alphabet and being prepared to read. Despite attending two years of preschool, Dashton was unable to make the connection between letters and sounds, or even recognize the letters in his name.
His mom decided to homeschool him one more year before starting kindergarten, and he still struggled with pre-reading skills. When his school tested him in the spring before he would start kindergarten, it was clear that he needed a little extra help to start kindergarten on track with his classmates.
Box Elder School District was getting ready to start a new summer pre-kindergarten program, partially funded by a grant from United Way of Northern Utah. The program was designed to give intensive summer teaching to the students who were behind in preparing for kindergarten. Each school was able to design their own program, but had to meet district requirements, including involving parents in the learning process.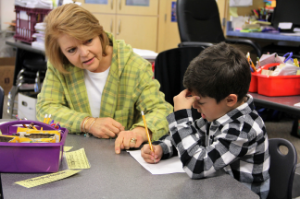 Dashton's summer teacher, Suzy Lish, notes that from the beginning, "he liked to learn." She continued to expose him to the alphabet, but her strategy was "to see if we could connect to the way he learned." She found that Dashton was a tactile learner, and loved building letters with playdough, practicing with wooden letter blocks, and other hands-on activities. He began to understand letters and sounds almost immediately.
Dashton's mom noticed a huge difference in his learning. Regarding the four-week summer program, she said, "We've noticed him come leaps and bounds since the year before we started kindergarten." He made more progress during the intensive pre-kindergarten class than his mom had noticed the entire time she taught him at home. Mrs. Lish was also very happy with Dashton's progress, saying "The four-week boost we did was very effective and got him ready to be on level to start in a regular kindergarten class."
Dashton is now doing well in kindergarten, and says it's harder than the summer program but he likes it a lot. The most advantageous way to help students be successful is to help them stay on track from the beginning. United Way is proud to partner with Box Elder School District in providing innovative programs for early education, helping ensure that every student has the opportunity to reach their potential in school and beyond.