Anisay realized she was pregnant just before she turned 18. Still in high school, she wasn't ready to become a mom. Though unsure of what was ahead, she went to the Pregnancy Care Center in Brigham City (PCC) and found resources to help her give her baby a good start in life.
Anisay signed up for the PCC's Earn While You Learn program, which educated her on pregnancy and caring for a baby. She learned about proper nutrition and exercise, which motivated her to eat better and start walking more. Lessons at the center also helped her prepare to take care of and communicate with a new baby.
For every lesson and homework assignment she completed, Anisay was able to earn "money" that she could spend in the PCC boutique. They have a variety of clothes, diapers, and baby necessities ranging from shampoo all the way to car seats. The more she learned, the more items she was able to "purchase" for her son.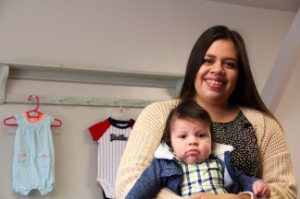 The Earn While You Learn program doesn't stop when a baby is born. Now that Anisay has adjusted to her new schedule with a baby, she is ready to go back for more classes to help her with her son's changing needs. There are areas for babies and toddlers to play near their moms during classes or learning sessions, to make it easy for her to bring him along.
Despite her unexpected pregnancy, Anisay has adjusted and is making plans for the future, including pursuing more schooling and a career in the medical field. The support and education she has gotten at PCC will have a lasting effect on her family's future as she works to balance her responsibilities and care for her young son.