SparkPoint Center: Vanessa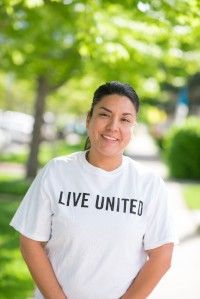 Vanessa had been working part-time, relying on food stamps and subsidized housing. Living paycheck to paycheck, she had no credit history and no bank account or personal savings. Without a goal, she had no motivation to change her situation. Her housing specialist referred her to SparkPoint Center at Cottages of Hope. From there, her life turned around completely.
Once she started working with her counselor at Cottages of Hope, she created a plan for herself. Her goals were to:
Find a full-time job with benefits
Build her credit
Get off public benefits
Buy a car
Buy a home
Working with a counselor at SparkPoint, Vanessa found a full-time job that she loves, with great benefits, better pay, and opportunities for advancement. Having a dependable income enabled Vanessa to open checking and savings accounts to continue working toward her goals. Another counselor at SparkPoint helped her file her taxes and claim her refund. She combined that refund with her savings to purchase a car. Because her counselor had helped her establish a good credit score, Vanessa's bank was willing to give her the lowest available rate on her auto loan, saving her several thousand dollars over the life of the loan.
In just one year, Vanessa has accomplished nearly every goal on her list. "I have worked hard to get where I am today, but it has also been fun," she says. She is quick to point out that she is working on completing her final goal: she will be leaving subsidized housing within a few months, and is already saving for a home for herself and her three children. With help from another agency at SparkPoint, she established an IDA savings match account. In two years she will have saved $6,000 toward the purchase of her first home.
United Way has collaborated with multiple agencies to make SparkPoint Center a life-changing experience for Vanessa and others. Continued support and grant funding from United Way make a noticeable impact on the lives of clients This comprehensive approach to financial stability has created lasting change for Vanessa and her family. As she says, "The best part of having my finances in shape is knowing it's permanent."
For more information on SparkPoint Center at Cottages of Hope, click here.