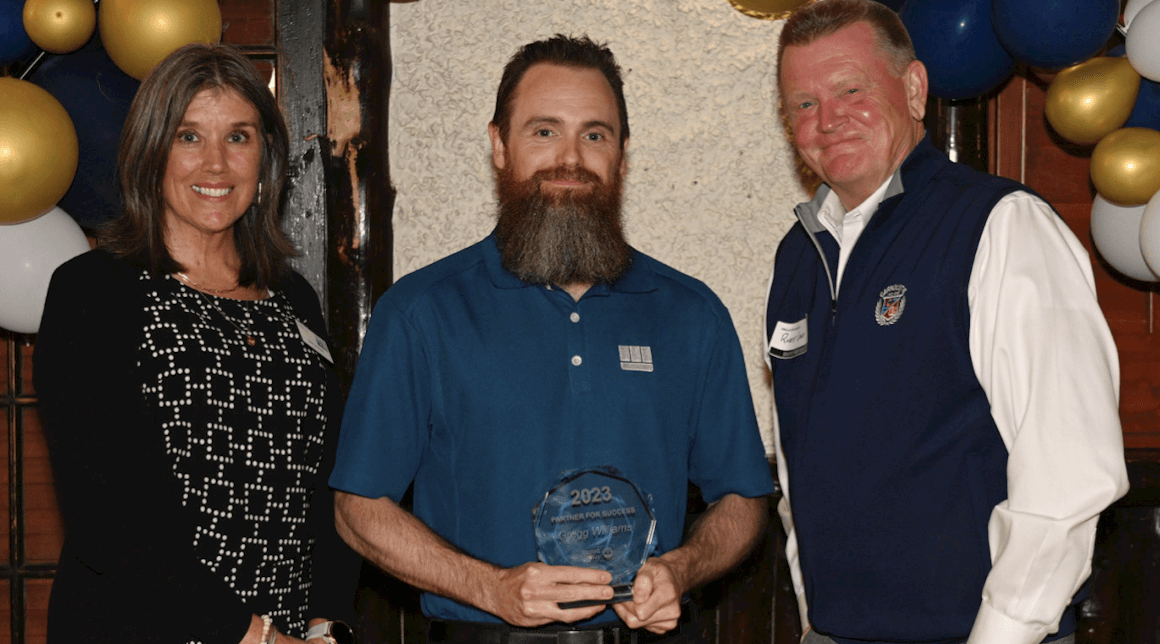 We are honored to work with so many partners in our community. Below are a few recipients from our BRAVO Awards Night. Read more below about these partnerships and their contribution to our community this year. Click the title of each awardee for an image.
Corporate Partner of the Year - Post Consumer Brands
We're honored to award Post Consumer Brands as the 2023 Corporate Partner of the Year. This award goes to an outstanding Corporate Partner who gives back in Northern Utah.
Post's Tremonton plant opened twenty years ago in 2003. Shortly after opening, Mark Suchan joined the board at United Way and started to explore how they could give back in our community. While brainstorming, they heard of a tradition that started at the Minnesota plant to sell cereal at a super low price and have all the proceeds go to United Way. Utah was the second plant to start hosting an annual cereal sale, and now all 9 plants do.
Last year, the proceeds from our local cereal sale increase by $10,000. Over the years, Post Consumer Brands has facilitated over $1M in donations back to our community through employee giving and the annual cereal sale.
We are so grateful for all of the incredible support from Post Consumer Brands and the lasting impact they have on building our community. As Mark shared with us "Community is everything. It's neighbors, people we work with, people we shop with. It's important to make our community stronger." Post helps make our community stronger by feeding a healthy and convenient breakfast - and by giving back in Northern Utah. Thank you Post Consumer Brands!
Community Partner of the Year - Weber-Morgan Health Department
This award goes to a partner agency that works to engage others in community conversations around the alignment.
Recently the Weber-Morgan Health Department Baby Your Baby Program and United Way Welcome Baby program partnered together for family home visitations. The goal is that every mother and every young child is supported with the resources, education, and tools they need and that their children are meeting their developmental milestones before they hit preschool or kindergarten.
Weber-Morgan Health Department representatives Lekelsi and Bryce shared their thoughts on the importance of community. Lekelsi said, "Strong communities have proven over and over that they are more resilient and they bounce back faster when disasters happen or when life is challenging." Bryce shared, "You can't have a strong individual without a strong community. You can't have a strong community without strong individuals. They are so interconnected and so important to everything we do."
We are proud to honor them as a partner. Thank you for your focus on collaborative relationships in the community, your increase in health awareness and reach, your key partnership for health initiatives, and your ability to host open conversations that respect and value everyone.
School Partner of the Year - Ben Lomond
This award can go to one of our CSC partner schools or one of our other participating Student Success schools in the UWNU service area.
We are happy to honor Ben Lomond and are grateful to them for embracing the community school module which creates an environment that cares for the whole child: basic needs, improving attendance, academic success, and social-emotional learning.
When asked about community, Principal Steve Poll shared, "My feeling is that a school should be the center of the community. Everything should happen here, we want it to be here. We want people to feel like this is their school, this is part of their community."
They are doing great work in hosting their community through their Community Christmas involvement, Dias de los Muertos celebration, Big Brothers Big Sisters Mentor 2.0 program, as well as their Parenting Elevated classes. Poll states, "It is touching to see parents taking classes where their kids are taking classes. There's some power to that." Thank you, Steve and Ben Lomond team for making a difference.
Box Elder Champion - Susan Neidert
This award goes to a partner or individual advocating for UWNU in Box Elder County.
Susan's relationship with United Way of Northern Utah is tied to the work she does with the Brigham City Fine Arts Center and Box Elder Runs Strong event. The purpose of her work ties back to a shared cultural DNA which is to: bring people together and empower lives.
Susan shared her thoughts on community stating, "The well being of people around us is what matters most. Stepping out and sticking to things can be the hardest , but often is the most rewarding part.
Susan helped start the Fine Arts Center in 1999. She also developed their World of Puppetry museum and related programs, as well as helped start the Box Elder Runs Strong event in 2021. Before this, Susan was a Nurse Practitioner for 28 years and helped start one of the first Hospice services in the community (1980). She has always been a community advocate and we are honored to celebrate her and her service.

Volunteer of the Year - Julie Anderson
This award goes to an individual or group who are engaged in volunteering with United Way of Northern Utah throughout the year.
Julie's experience with UWNU comes from her work with the Weber Communities that Care program (also known as Weber CTC). She currently serves as the Community Board Chair of Weber CTC, and has spent hundreds of volunteer hours dedicated to educating and connecting with her community in order to prevent youth substance use and promote mental well-being.
When reflecting about her work with the youth council that Weber CTC oversees,Julie shared a memory. "We were hosting a community pool party and were worried about attendance. We thought maybe a handful of families would show up. We ended up having 1200 people attend! The pool was full, conversations about important issues were happening in a fun way. So, you want to know our advertising secret? Our Youth Council Advertised us on SnapChat. That's why you need the youth. Bring them to the table. They know what they're doing. Being able to work with the youth and to feel their excitement and their desire to keep their friends safe, is encouraging. This community has given me knowledge and a strength I never had before.
Thank you Julie for your passion for helping others and being involved in the community. Your giving energy is contagious. You are always willing to learn, are full of fantastic ideas and never miss an opportunity to spread the power of prevention. The progress that Weber CTC has made because of your leadership is immeasurable. We are so grateful to have you as our community champion and we are absolutely honored to present you with this "Volunteer of the Year" award.
Community Leader of the Year - Kirk Nigro
I am honored to be here tonight to present the Community Leader of the Year award. This award is given to an individual who has made significant contributions to our community through their leadership, dedication, and hard work.
Tonight I have the privilege of presenting this award to Kirk Nigro. Kirk has been an outstanding leader and advocate in our community for many years and is instrumental in organizing events that bring people together. His advocacy and support has funded projects and time dedicated to provide educational opportunities for those that don't always have access to it. Kirk is actively initiating how to get involved simply by taking action and asking, "What are you guys doing? How do I get involved? What do you need?"
One thing he said that sticks with me is "I like the synergy of one plus one equals three." Kirk is an extraordinary catalyst for unity, fostering inclusivity, and unlocking educational pathways. He is a true inspiration to us all by bringing people and resources together. He has shown us what it means to be a leader and how we can all make a difference to work together to remove barriers and multiply the benefits in our community.
Please join me in congratulating Kirk on receiving this well-deserved award. Thank you for your hard work and dedication.
Partner for Success - Gregg Williams
The Partner for Success award is given each year to a major donor who helps to make United Way's work successful. This year I am excited to announce Gregg Williams, CEO of Williams International as our 2023 Partner for Success.
Williams International and United Way are natural partners as we both value the importance of collaboration and working to ensure that the right partners are in place to address our community's greatest challenges.
Gregg shared that the Ogden communities are important to him because Williams International is committed to good corporate citizenship and he believes that providing assistance to those in need helps us all live more productive and fulfilling lives.
For nearly 50 years, Williams International has run an employee giving the campaign to make it easy for their employees to give back, and for the past several years, Gregg has personally matched the employee's contributions dollar for dollar - not only to incentivize participation but to model good corporate citizenship behavior for his workplace. Gregg noted that he is proud to see the giving spirit of Williams' employees year after year. We are so grateful for the support of all of Williams International employees, and for the leadership Gregg models to his workforce and in our community.