Stuff the Bus 2021
You Can Help Prepare a Student for Success
When a student walks into the classroom with the basic school supplies they need, they can focus on learning. Lots of students in our area do not have the necessary supplies, and we need your help to change that! From July 1 - August 8, we are collecting backpacks and other school supplies for students throughout Box Elder, Morgan, Oneida, and Weber counties. Your support and donations will ensure that every child in Northern Utah has a chance to succeed in school. Scroll down to learn more about which items we're collecting, where you can drop-off items, and other ways to participate in Stuff the Bus.
How You Can Help
Donate School Supplies
Help us stuff the bus! You can help students in our community by donating new and unused school supplies at one of our drop-off locations throughout the community. Check our Weber County Bus Route and our Box Elder Bus Route to see where the nearest Bus Stop and drop-off locations are.
Although we accept all new and unused school supplies, some items are needed more than others. Check the list below to see what items will help children in our community be more prepared for school this year.
Most Needed Items:
Graphing calculators 
School uniform items in burgundy, navy blue, and khaki colors for both genders grades K-6
Backpacks for girls K-12
Backpacks for grades 7-12
Binders/folders
Pencil boxes
Paper/Notebooks
Colored pencils
Glue sticks
Markers/crayons
Highlighters
Rulers
Scissors
---
Purchase Supplies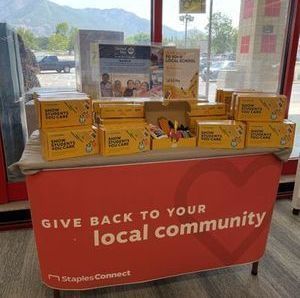 Help ensure that students have the supplies they need to start the 2021-2022 school year. You can support local students by purchasing a school supplies kit provided by Staples. Visit the Staples store at 4043 Riverdale Rd, Ogden, UT 84405 and purchase a school supplies kit that will be donated to our community partners. Kits are $5 plus tax and include pencils, pens, highlighters, dry erase markers, erasers, permanent markets, and glue. 
---
Make a Donation
Make a donation and we will make sure it goes to fill the gaps and purchase the items that students need the most. 
---
Spread the Word
Help us spread the word! Start your very own Stuff The Bus fundraiser in just a couple of minutes. Share it with your social media network and see how many donations you can get to help students in your community. Simply click "Start fundraiser" below and follow the steps to get it up and going!
Asking your friends, family, neighbors, or coworkers to help us Stuff the Bus is also an easy way to participate. Download these flyers, print them out, and you're ready to go! Pass out flyers to homes in your neighborhood as a family or send an email to your friends, family, and coworkers and encourage them to participate in the drive with you. 
---
Be a Donation Drop-Off Site
Show your community you care by becoming a donation drop-off site. It's a free and easy way to participate in the drive as United Way of Northern Utah provides all the materials you need. If you would like to become a donation drop-off site and have your information listed on our Weber and Box Elder County Bus Routes, please email Nicole Hopkinson.
---
Volunteer Your Time
If time is something you are interested in donating, consider volunteering to help us sort, count, inventory, or distribute the school supplies that are donated. Your effort ensures that the items we collect get into the hands of students who need them as quickly as possible.
If interested in helping to sort, count, and inventory the donations at the conclusion of the drive, please contact Nicole Hopkinson.
If interested in helping to distribute items donated to our nonprofit partners and throughout the community, please contact Julie Johnson.
---
United Way of Northern Utah is proud to partner with Catholic Community Services of Northern Utah for this drive. 
---
THANK YOU TO OUR YEAR OF ACTION SPONSORS!